Marbella : regions and major places to buy real estate

MARBELLA CENTRE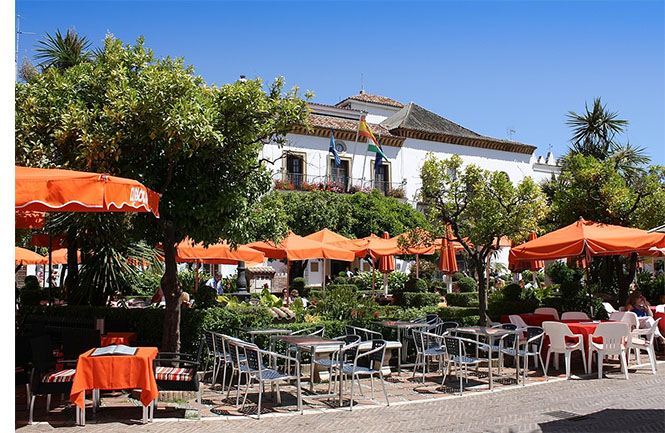 Marbella Centre has many facets:
The 'Paseo Maritimo': one of the liveliest seaside promenades on the Costa del Sol. It is lined with many apartment complexes with beautifully landscaped gardens, close to the sea.
The fishing port and marina
The 'Casco Antiguo', the old city district featuring the famous 'Plaza de los Naranjos' with its orange trees, surrounded by a maze of narrow streets with rowhouses and elegant mansions.
The central Avenida Ricardo Soriano, with its fashionable shops and office buildings housing banks, notaries, law firms and real estate agents
The many charming parks, the international (language) schools, the museums
The nearby luxury Shopping Mall 'La Cañada'
In short, Marbella Centre is ideal for anyone who likes the lively atmosphere and bustle of a beautiful seaside resort on the Costa del Sol.  
WEST MARBELLA
The area known as 'West Marbella' is the stretch of coastline to the west of Marbella, encompassing districts and villages such as: Golden Mile, Puerto Banús, Nueva Andalucía, San Pedro de Alcantara, Guadalmina, New Golden Mile, Los Arqueros, Los Flamingos, Benahavis, La Zagaleta, Estepona, Manilva, Valle Romano, Casares, La Duquesa.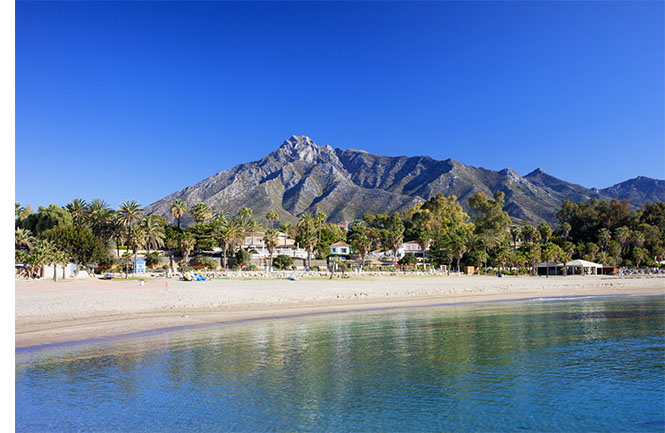 THE GOLDEN MILE
Approximately 6 kilometres long, this coastal area is situated between the original centre of Marbella and cosmopolitan Puerto Banús. The name 'Golden Mile' says it all: this is home to the most expensive beachfront properties on the Costa del Sol. Rarely available on the market, they have excellent value retention.

PUERTO BANUS
In the world-famous Puerto Banús, luxury and glamour go hand in hand: superyachts, luxury sports cars, exclusive fashion boutiques, restaurants, nightclubs and beach clubs. Puerto Banús has it all.
Puerto Banús is the hotspot for people who love year-round luxury and excitement.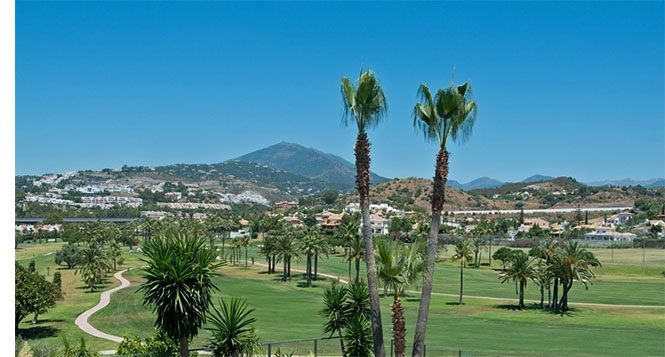 NUEVA ANDALUCIA
Nueva Andalucía is close by Puerto Banús, but is a bit quieter.
It boasts traditional Andalusian architecture as well as more modern developments.
Nueva Andalucía is ideal for those who like peace and privacy but still want to be close to Marbella and Puerto Banús. Naturally, these qualities mean that property here is sought-after, which is reflected in somewhat higher prices.
With its prestigious golf clubs, such as Aloha Golf, Las Brisas, La Quinta, Los Naranjos, Magna Golf and La Dama de Noche, Nueva Andalucía is a true paradise for golfers, who bring in attractive rental income and solid returns on real estate investments, even outside of the summer months.
 
SAN PEDRO DE ALCANTARA
Although it is just 3 kilometres from Puerto Banús and 10 km from Marbella, San Pedro de Alcantara has preserved its Spanish authenticity. From the central village square, with its pretty church and picturesque little streets, there are plenty of tapas bars and shops to discover. The wide beachside promenade and boulevard from San Pedro to Puerto Banús is highly popular with walkers, cyclists and other sports enthusiasts.

GUADALMINA
In Guadalmina, you'll find restaurants, bars, shops, golf courses and the beach all within walking distance and yet, there is a wonderful sense of wide-open space thanks to the green zone of the famous golf club, the "Real Club de Golf Guadalmina" with its 36-hole fairway that runs all the way to the sea.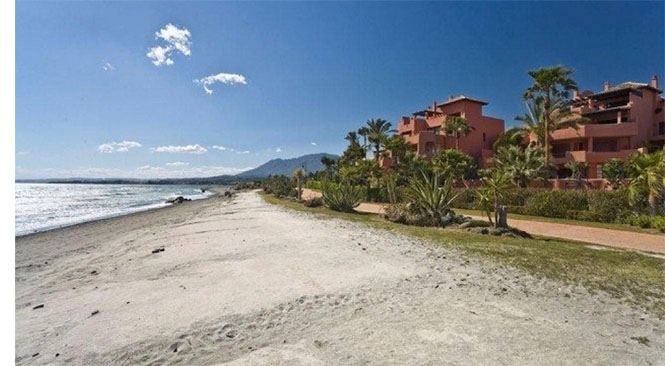 NEW GOLDEN MILE
The 'New Golden Mile' refers to the area between Guadalmina and Estepona with renowned golf courses such as El Paraiso, Atalaya and Resina Golf. In addition to numerous luxury hotels such as Kempinski, Las Dunas and Senator Banus, this area boasts an extensive range of (luxury) apartments and villas in urban developments such as Benamara, Cancelada, Costalita, Guadalmansa and Los Granados.
Nearby, there is also Laguna Village – a shopping centre in traditional Caribbean style between the trendy beach clubs: Puro Beach and Camuri Beach.

LOS ARQUEROS and LOS FLAMINGOS
There are a number of urban developments on the inland side of the 'New Golden Mile, towards the mountains, such as Los Arqueros, built around the golf course of the same name designed for seasoned golfers, and Los Flamingos (with the 5-star hotel Villa Padierna Palace) with apartments, villas and terraced houses offering stunning views of the valley and the sea.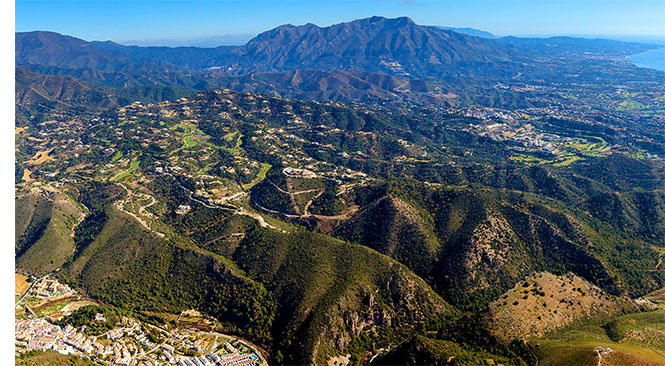 BENAHAVIS
Benahavis is a virtually unspoiled Spanish mountain village with winding little streets and whitewashed houses, located 7 km from the coast.
The hotel and culinary schools in Benahavis ensure a permanent influx of talented young chefs for the many gastronomic restaurants in the region.
With 9 golf courses nearby, the deluxe urban developments attract a lot of interest from the international golfing public.
La Zagaleta is undoubtedly the most prestigious - and expensive - urban development in the entire Costa del Sol, making Benahavis the wealthiest municipality per capita in Andalusia.
Benahavis offers tranquillity and breath-taking vistas of the picturesque hills, located just a 10-minute drive from the sea and 15 minutes from Puerto Banús.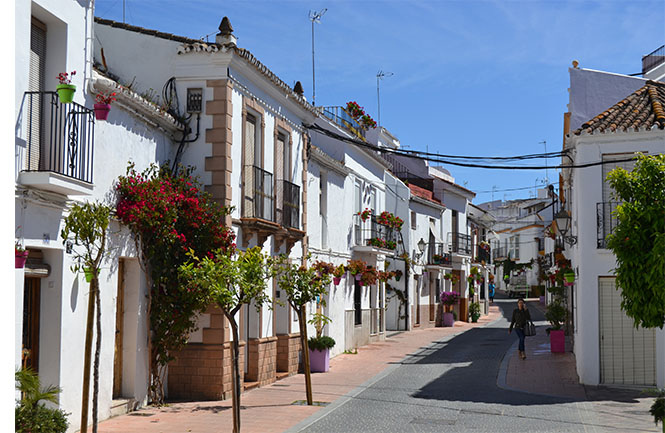 ESTEPONA
In the authentic city centre of Estepona, surrounding the central square, you'll find picturesque little streets with tapas bars, shops and restaurants that serve traditional meat dishes and seafood at local Spanish prices.
Along the beautiful sandy beaches of Estepona you'll find countless restaurants that combine a unique view with original cuisine and a 'bohemian chic' style.
The beach promenade is always buzzing with cyclists, sports enthusiasts and walkers; if you like, you can continue all the way to the marina of Estepona, where you'll find even more bars and restaurants.

MANILVA, VALLE ROMANO, CASARES, LA DUQUESA
Near Estepona and Manilva, there are several delightful golf courses such as Valle Romano Golf, Finca Cortesin Golf, Casares Costa Golf and Dona Julia Golf. On and around these golf courses there are many well-established urban developments with attractive, affordable apartments affording panoramic views of the golf courses, the sea and/or the mountains.
In La Duquesa there is a charming marina with affordable real estate close to the beach and the docks.
EAST MARBELLA
East Marbella is the region to the east of Marbella, with major towns and districts including: Rio Real, Los Monteros, Elviria, El Rosario, Las Chapas, Cabopino, Calahonda, Riviera Del Sol, Miraflores and La Cala De Mijas.
The region to the east of Marbella is highly popular with an international crowd, thanks to its beautiful sandy beaches, protected dune reserves, green environment and numerous golf resorts, all only 20 to 30 minutes from Malaga Airport.
This region is home to both traditional and modern urban developments in locations where construction is currently no longer possible; with panoramic sea views, mature landscaping, wide boulevards and a highly diverse range of shops, restaurants, chiringuitos (beachside restaurants) and sandy beaches.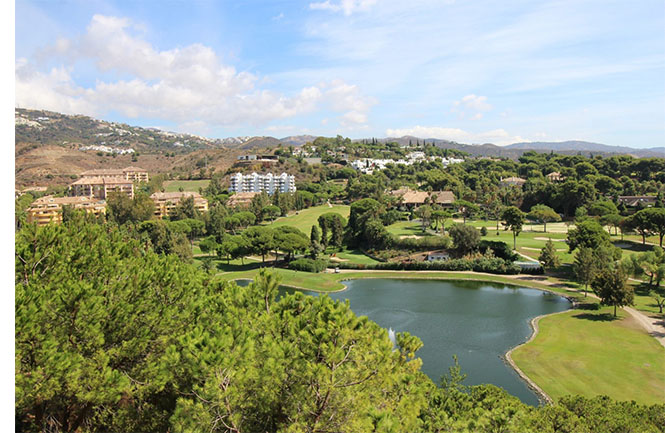 RIO REAL and LOS MONTEROS
Rio Real
is home to the golf club of the same name, which affords a stunning view, as it is situated next to the beach and the trendy chiringuito
Trocadero Arena
. Located near
Los Monteros
is the main regional hospital :
'Hospital Costa del Sol'
. This urban development extends from the beach up to the hills and borders the lovely
Santa Clara Golf
and the prestigious
Marbella Golf & Country Club
ELVIRIA, EL ROSARIO
Nikki Beach, South Beach, Bono Beach
are some of the popular gathering places in this conveniently located region where quality real estate never stays on the market for long.
LAS CHAPAS
With its luxury villas on large lots that offer plenty of privacy and its attractive urban developments close to the beach or against the mountain slopes with unobstructed sea views, this is one of the most expensive and sought-after locations in East Marbella.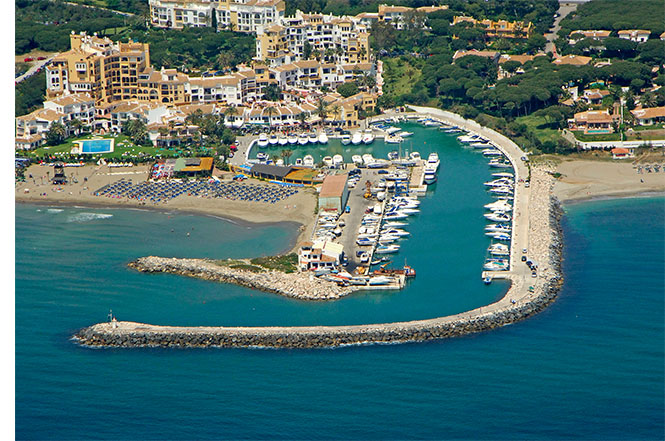 CABOPINO
In the small-scale marina complex of
Cabopino
, there are many cosy restaurants, as well as attractive wooden walkways through the protected sand dune reserve of
Artola
, close to
Cabopino Golf.
CALAHONDA, RIVIERA DEL SOL, MIRAFLORES
These urban developments extend over a large area and offer a diverse mix of apartments, terraced houses and villas, generally in low-rise buildings (max. 3 storeys), interspersed with a few taller structures.
LA CALA DE MIJAS
Located just 20 minutes from Malaga Airport, La Cala de Mijas has sprung up around a former fishing village and has retained much of its traditional charm.
La Cala de Mijas covers a large territory from the sea up to the hills and comprises features such as the golf courses
La Cala Golf & Country Club, Chaparral, Calanova
and
Mijas Golf
, as well as the Mijas racecourse, a rarity on the Costa del Sol. All the day-to-day amenities are available in the centre of Mijas, such as restaurants, tapas bars, shops and supermarkets. Everything is conveniently accessible.
Despite the presence of an international population, the centre of La Cala still retains its authentic Spanish feel.
With high-quality and affordable real estate, this region offers something for everyone and remains accessible to a wide range of buyers.